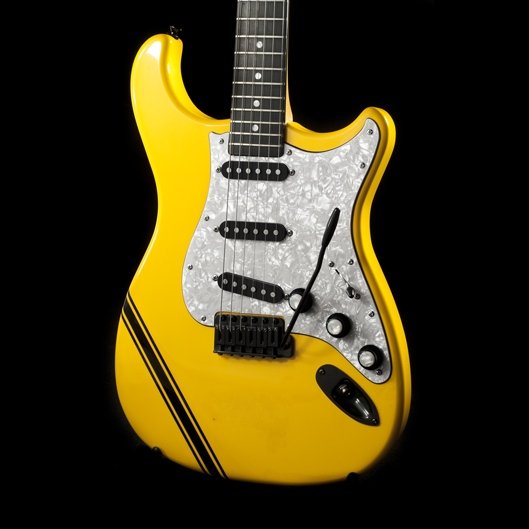 "I am the proud owner of two DELM hand crafted custom guitars. For more than forty years working as a professional musician on stage and in the studio, the anticipation and exhilaration of performing with these exquisite instruments has inspired my playing to a whole new level.
The DELM PCP- M I've found to be perfect for recording everything from silky jazz grooves to full-on hard edged blues and rock. The unique hand-wound pickups and noiseless switch circuitry developed by Michael De Luca, allows me to blend a variety of guitar sounds to match any musical style or technique required whether performing live or during a recording session. The beautifully selected timbers and matching hardware not only makes for great eye candy but enhances the guitar's exceptional tone and overall playability. The DELM PCP-M is an engineering masterpiece that seems to take on an organic effect when gracing the neck and fingerboard. Everything from the comfortable body contours to the smooth glide of the Bigsby tremolo reassures me the guitar is going to respond to my every demand.
The DELM TD Custom "Surf Canary" is now my work-horse for live performance. The Rapid Yellow and Custom GT Stripe is a head turner making it a popular talking point with my audiences. It's the ultimate Hank Marvin, Dick Dale, Duane Eddy, Ventures impersonator guitar all in the one package. I spank this guitar hard and vigorously work the floating tremolo bar playing three to four nights a week….it never goes out of tune and never fails to impress me how good it feels and sounds. It's like the "Spaghetti Western gunslinger of Guitar Gulch at high noon" leaving all my old Fender Strats and Tele's to eat dust and die. Seriously though, Michael De Luca has watched me perform live on many occasions before designing and building the ultimate stage guitar to suit the variety of music styles I play. Michael's attention to aesthetic detail, precision tooling and electronic wizardry, goes way beyond any guitar maker I've ever known in my travels throughout the world.
The DELM TD Custom is affectionately named the "Surf Canary" because it replaces the original stolen "Canora" Japanese Strat copy I purchased during my teenage years where I learned to play all the traditional Hank Marvin surf licks…..and of course the canary yellow proved to be popular with the girls. I treasure this guitar so much because it feels and plays just the way I like it rather than compromise my performance based on someone else's design or for the sake of a popular brand name.
The hand crafted quality and playability of DELM Guitars certainly stamp their authority against the popular factory made brand names…..I've spent a fortune collecting vintage instruments over the years only to now see them as expensive decorations on the wall of my studio. Thank you DELM for the perfect instrument….where perfection is hard to achieve these days."